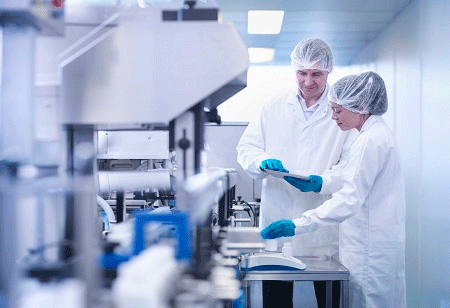 A Contract Research Organization (CRO) provides support to the pharmaceutical, biotechnology, and medical device industries for specific services on a contract basis. The services may be clinical research, product development such as drug development or process development such as bio analytical assay development. A CRO may also provide management services such as clinical trials management, and pharmacovigilance.
The CRO market is being driven by the biopharmaceutical industry's improving fundamentals. Most biopharma companies, the CRO industry's most important customers, are now at the tail end of multiyear patent cliffs and are stepping up investments in their late-stage pipelines. This is expected to drive modest growth in biopharma Research & Development expenditure in the foreseeable future.
The global biologics (biopharmaceutical drugs) market is expected to grow to $428 billion by 2022 at an annual rate of more than 10 per cent. This rapid growth is expected to accelerate the development of biologics. In tandem, biopharmaceutical sponsors are expected to increase their outsourcing activities, supporting the growth of the CRO market.
Globalization of clinical trials
The Indian clinical trials market size is expected to reach USD 3.15 billion by 2025. It is projected to register a CAGR of 8.7% over the forecast period. Globalization of clinical trials, adoption of new technology in clinical research, growing disease variation and prevalence, and increasing Research & Development promoting outsourcing are the key factors driving the market.
India is a country of nearly 1.3 billion individuals with varying genetic background and thus offers a large treatment patient pool for development of therapeutics on a range of disease conditions. Furthermore, the economic, environmental, and ecological variations in the 29 states and 7 union territories in the country present the most diverse disease profiles. For instance, Rajasthan, Bihar, Jharkhand, and Uttar Pradesh have less dominance of non-communicable diseases as compared to Kerala, Tamil Nadu, and Goa.
Favourable destination for clinical trials
Streamlining of the regulations has led to increase in harmonization and reduction in approval time, thus making India a favourable destination for clinical trials. Furthermore, the cost of carrying out clinical trials in India is nearly 40-70% less than that in Europe or United States. Thus, the cost efficiency, along with availability of skilled professionals, and ease of doing business, is accelerating the market growth.
Contract Research Organizations are increasingly incorporating real world evidence in their clinical studies. Real World Evidence (RWE) is the data collected from sources outside clinical trials, including the monitoring of social media, mobile and wearable health tracking devices and electronic medical records. These insights from patients can better help CROs tailor clinical protocols to apply to real world circumstances.
Other factors that are favouring the market are efforts by the regulatory authorities such as Director Controller General of India (DCGI), Indian Council of Medical Research (ICMR), Directorate General of Foreign Trade (DGFT), Department of Biotechnology (DBT) to create an amenable climate for research in India.

Increasing Number of Non-Profit Organizations
The demand for CROs has been increasing ever since healthcare institutions have unlocked various benefits of contract research organizations in business operations. With the inflating demand for CROs, investors have identified huge growth potential within establishing CROs. The rise in the number of investors involved in developing contract research organizations has contributed to the growth of the global CRO services market. Besides non-profit organizations, the market continues to witness newer CRO launches from leading companies across the country.

Impeding Factors
The stringent and differing pharmaceutical industry regulations in India have restricted the growth of the CRO market. Majority of the clinical trials and other research processes are outsourced simultaneously. In India, there are different guidelines and regulatory processes related to drugs, filing and clinical trials, which can cause issues and act as a restraint on the market.

Multi-location trials of a single drug in different procedures pose a challenge to pharmaceutical companies as they have to follow a completely different procedure. This is observed as one of the major challenges for research outsourcing in India and so, a company prefers to restrict outsourcing which restrains the research outsourcing market. For instance, clinical trials, regulatory filings and approval of drugs in India and China have variations. "The year FY21 has been a challenge for CROs, as a lot of Research & Development companies, reduced their spent on research due to COVID-19", says Dr Chaitra Harsha, Co-founder and Managing Director of Vipragen Biosciences.

Concern for security
Another factor hindering the market over the forecast period is the increasing concern for security, especially data security and patient security. The market threat is the growth of the China market and the compromise on ethics and standards done by certain CROs. There are CROs who lack adequate infrastructure and knowledge. It has been observed that many clinical research institutions in India have an inadequate representation of the non-technical personnel in Institutional Ethics Committee (IEC).

Without adequate representation of persons from a non-functional background, the opinion of the IEC is likely to be unfair and biased in favour of the clinical study. Some institutes have IEC but do not have a regular schedule of committee meetings, lack of Standard Operating Procedures (SOPs) or do not have a proper member representation according to the ICMR guidelines.

The quality of the overall data and clinical trial, including various aspects such as GCP compliance, manpower training and development, patient retention and awareness building, needs to be stepped up. Another threat is lack of collaboration between universities and industry which affects the market negatively.

What does the future hold?
The wide application areas for toxicology and drug screening, along with growing technological advancements, are leading to the development of novel screening products as well as an increase in the availability of high end drug screening instruments, reagent and kits. Simultaneously, many companies are adapting advanced technologies to reduce, refine and replace the use of animals in pre-clinical research. These factors combined are helping support preclinical testing and are ultimately driving the growth of the Indian pre-clinical CRO market.