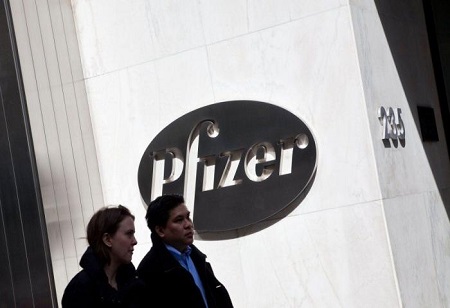 Pfizer Inc agreed to extend its COVID-19 vaccine contract from 2023 to 2026 with the European Union, the sources reported, citing people with knowledge of the matter.
The drugmaker has offered to cut the number of doses being supplied by 40 per cent and delay delivery of the shots, the report added. Under the revised terms, Pfizer is asking for payment for doses ordered that will never be manufactured, the sources said.
"Working together we have achieved a significant reduction of doses, an extension of our contract in time far beyond 2023, and security of supply in case more doses are needed," European Union Health Commissioner Stella Kyriakides said in a statement.
"If we want to modify vaccines deliveries, we need a deal," Kyriakides added.
The new terms were presented to health ministers of member states in a private meeting, according to the report. They met resistance from four member states, including Poland.
Assen Medzhidiev, acting minister for health of Bulgaria, said his country along with Poland, Hungary and Lithuania opposed the proposed deal on surplus vaccines.
Medzhidiev added that he believed other EU members also would not support the proposed deal in its current form.
"The proposed Pfizer amendment to the Pfizer agreement is clearly unacceptable to us given the critical situation of vaccine oversupply in Bulgaria and unjustified financial burden for products destined for destruction," Medzhidiev said.
"We call on the Commission to return to the negotiating table, taking fully into account the mandate given. Until a solution is found, all the deliveries must be stopped," he said.
Pfizer did not immediately respond to a request for comment.
Sources reported in January about the talks between Brussels and Pfizer and German partner BioNTech amid a global glut of COVID-19 shots, with Europe sitting on a particularly big excess supply.
The discussions included the possibility that Pfizer would reduce the up to 500 million COVID-19 vaccine doses the EU has committed to buy this year in return for a higher price.