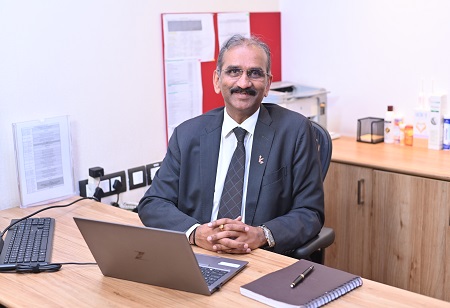 Excerpts from a conversation with Dr. TG Chandrashekar, Executive Director at Kusum Group of Companies in which he walks us through the market opportunities and challenges faced by the pharmaceutical industry and how new technologies are transforming the industry.
Dr TG Chandrashekhar is part of the Indian Pharmaceutical Industry with around 30 years of global expertise and understands handling the lifecycle of a pharmaceutical product with thorough knowledge in GMP, Quality Management Systems, Supply Chain Management, Plant Operations, R&D, BE Studies, Regulatory Affairs, and Intellectual Property. He is working with Kusum Healthcare Pvt. Ltd since 2015 and currently as Executive Director, based out of New Delhi.
Dr. TG as he is popularly known in the industry holds a Ph.D. degree in Chemistry from Mumbai University and has completed High Potential Leadership Program at Harvard Business School. He has published around 15 research papers and has 5 patents. He was the chairman of the IP Committee for Anti Aids drug and has published about 30 monographs in the IP and about 10 Monographs in USP. He has been selected as one of the 100 most inspiring people as a Mentor in the Global Pharmaceutical Industry by PharmaVoice, a US Pharmaceutical Magazine for Industry Executives.
How do you see new technologies transforming the pharmaceutical industry?
Technology puts the pharmaceutical industry in a strong position of offering improved healthcare by enhancing competitiveness and improving patient compliance by a huge margin.
Automation:
Automated validated production processes make it easier for pharmaceutical manufacturers to ensure compliance with all relevant regulations and help in improving the efficiency of pharmaceutical development and production by streamlining the processes. Technological advances and robotics are enabling the pharmaceutical industry to increase the speed and accuracy of their processes such as filling, packaging, and inspection.
Integrated Manufacturing Lines:
The major concern under current good manufacturing practices is to fully contain the product during processing, thereby protecting both operators and the environment. Integrated process systems not only offer containment, but also provide improved productivity through automation, increased yield, and efficient cleaning procedures.
Continuous Manufacturing Lines:
The pharmaceutical industry is looking at continuous processing to improve production quality in an efficient and cost-effective way and to comply with the increasingly stringent manufacturing acceptance criteria put in place by the regulatory authorities.
Benefits of Automation include maximal end-product safety using online quality control with faster testing, saving on labor, and energy savings of 0.5–5% yield improvement.
Advanced Software:
Software modules are already available that can help to simulate new drug candidates which can be eventually introduced as potential drug molecules to be considered for future development.
Artificial Intelligence in Manufacturing:
AI combined with Machine Learning (ML) is also assisting pharmaceutical companies to ensure quality throughout the process. The pharmaceutical industry utilizes data-driven solutions in both Research & Development (R&D) and routine manufacturing phases.
FDA currently supports the application of an improved development approach, e.g., quality by design (QbD) in the R&D phase, and it also supports the use of process analytical technology (PAT) as a tool to support continuous manufacturing.

Artificial Intelligence in Research and Development: Physiologically based pharmacokinetic (PBPK) determines chemical exposure to the amount of chemicals found in the blood and organs at different times. Physiologically based biopharmaceutics modeling (PBBM) correlates physicochemical properties with physiological parameters to determine the absorption and pharmacokinetics of drugs. Dissolution simulation software simulates intravenous, oral, oral cavity, ocular, inhalation, dermal, subcutaneous, and intramuscular absorption, biopharmaceutics, pharmacokinetics, and pharmacodynamics in humans and animals.

What are the major challenges faced by pharma companies in adapting to new technologies?

With the government of India allowing 100% Foreign Direct Investment (FDI) in the pharmaceutical sector for greenfield pharmaceuticals, brownfield pharmaceuticals, and 74% under the automatic route, initial investment remains a major challenge for many players to adopt new technologies.

Other challenges include Infrastructure development and operational costs, collaboration with experts, etc.

The high investment along with the glaring question of whether automation will result in the downsizing of human labor triggers resistance to adopting new technologies, particularly in India where skilled resources are huge in numbers.

How can the adoption of new technologies improve the research process?

New technologies aid in faster development by resorting to a multivariate developmental approach. Reduced development time using a multivariate development approach helps in assessing formulation strategies and achieving desired dissolution profile. The application of QbD will ensure a consistent and robust product. Through the use of PBPK and PBBM models, formulations can be optimized to generate optimum in vitro-in vivo correlation.

What strategies can be employed to ensure the seamless integration of new technologies into existing processes?

It goes without saying that any new adoption must follow proper planning & thorough execution but for the adoption of groundbreaking technologies, pharmaceutical players also need the vision of a paradigm shift so that an impact of comprehensive improvement is created.

What methods can be used to identify and assess potential technology partners?

Technology partners must offer proper technological due diligence with respect to the technology infrastructure and deploy a team to support it. They should be open to the scope of modification and believe in an open approach to collaboration.

How can pharma companies ensure that data security is maintained when using new technology platforms?

Many data security software packages are available today to manage multiple levels of security and encryptions. They also offer multiple-level validation of users so that data remains secure even with the lab technicians and employees.

What techniques have been most successful in utilizing new technologies for product development and research projects?

Appropriate application of Artificial Intelligence (AI) in research projects has hit the bull's eye and is in news everywhere. The next big thing is the development and scale-up of drug manufacturing that can speed up the overall drug manufacturing procedure and ensure a higher success rate.