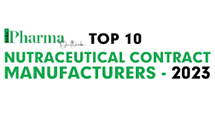 Neutraceuticals: It Better to Care rather than Cure
Introducing certain amount of essential vitamins and minerals in daily eating routine plays a pragmatic role in the long-term health of immune system, bones, joints, and heart. Though realizing the importance of a healthy and well-balanced diet is very easy, maintaining it on a daily basis with the same pace is equally difficult. Plus, when it comes to micronutrients, one size never fits all, each person needs nutrients based on their gender, physical activity, eating habits, age, state of health, medication and so on. Hence, the nutraceutical sector in India has been experiencing rapid growth in the last few years.
Nutraceutical Contract Manufacturers
Getting access to nutraceuticals is easy; however the production of the same is a equally difficult and lengthy process. The processes involved in manufacturing nutraceuticals such as designing or developing, manufacturing, and marketing are regulated by Food and drug administration, where they go through a thorough test of quality control, purity of raw ingredients, and final product. This clearly portrays that the production of nutraceutical products to cater to the ever-evolving market needs is not at all a cake walk. Thus mostly the task is prearranged to nutraceutical contract manufacturers who assist with their experience, accurate machinery, reputable networking,...